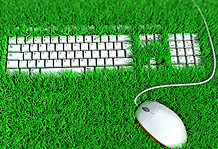 At the University of Arizona, campus sustainability through the reduction of energy usage and greenhouse gas emissions has become a vital mission. An estimated 45% of the 17,000 computers on campus are left on after standard working hours. This wastes up to 3 million kWh of electricity and releases an extra 2.8 million pounds of carbon dioxide into the atmosphere a year, equivalent to the annual gas emissions from 250 cars. Just this lack of control over our computer hardware is costing the university an estimated $175,920 annually. What can you do? Just by changing a few simple actions, you can help improve energy management, increase energy efficiency, and reduce waste.



Computer Myths
Myth: It is bad to turn off the computer.
Truth: This was true for early computer equipment (pre-early 1990s). Computers are now designed to handle 40,000 on/off cycles. This is considerably more cycles than the average user will initiate in the computer's 5-7 year life span. Turning your computer off helps reduce heat stress and wear on the system.
Myth: Turning your computer off uses more energy than leaving it on.
Truth: The surge of power used by a CPU to boot up is far less than the energy used by the unit when left on for over 3 minutes.
Myth: Screen savers save energy.
Truth: Screen savers were originally designed to help protect the lifespan of monochrome monitors which are now technologically obsolete. Most screen savers do not save energy unless they actually turn off the screen or, in the case of laptops, turn off the backlight.
Myth: Network connections are lost when a PC goes into low-power/sleep mode.
Truth: Newer computers are designed to sleep on networks to prevent loss of data or connection. CPU's with Wake on LAN (WOL) technology built-in to network cards can be left in sleep mode overnight to wake-up and receive data packets sent to the unit.
What We can do